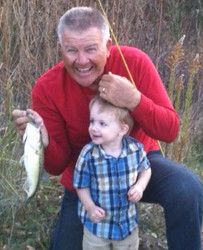 You have fond memories of fishing with dear ole dad. You are eager to rekindle that passion, eager to wet that hook, eager to relive those memories. The long awaited vacation is on the calendar. Time to make preparations!  Acquiring a boat would be nice. Must purchase bait, lures and other equipment. But what type, what species of fish am I aiming to catch? With the price of gasoline, how much will it cost to haul a boat to my desired destination? Then there are licenses and insurances to think about.  Perhaps it would be wise to hire a guide and let him deal with all those details.
A guide will own a boat and a large variety of equipment.  He will be knowledgeable about the chosen lake and the species of fish.  He will be responsible for the boat, insurance, gas, batteries, equipment, etc. He will be handy to untangle backlashes, removing the fish from the hook, re-baiting  the hook and even cleaning the fish. Guiding is demanding work. It takes a lot of behind the scenes work to insure a rewarding day. His experience and hands on knowledge are invaluable.
A day with the assistance of a guide will be focused on learning the art of fishing in a relaxing atmosphere. He will be eager to share his love of fishing and will share your enthusiasm. He will encourage youngsters and the not so young! Your success and excitement will "make his day."
Fees may seem exorbitant, but the cost of maintaining a boat, insurance, batteries, electronics, fuel, fishing equipment and guide licenses are enormous.  Guides choose their profession to fill their hearts, not their wallets!
Nobody can guarantee perfection. There will be times when the fish aren't biting, but the mosquitoes are, when you are hungry, but the fish aren't. Perhaps that is why it is called fishing, not catching. Those days are rare and the guide is ever bit as disappointed as you are.
Think positive. Hire a guide.  Learn new skills and make memories!